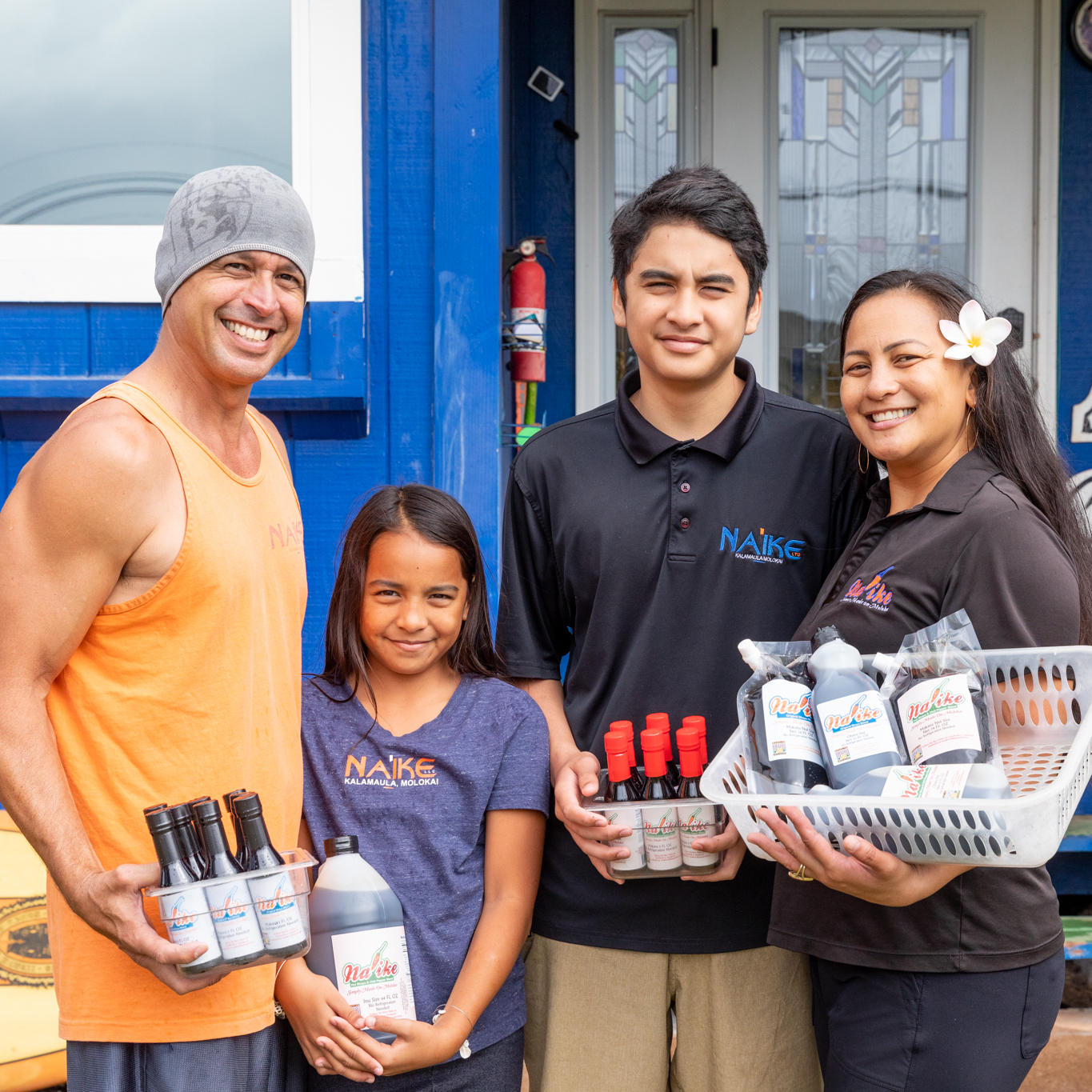 Na'ike
Contact: Nani and Mike Kahinu
Address: PO Box 650 Lot 18 Maunaloa Highway Kaunakakai, HI, 96748
Phone: 808-336-0387
About Us
Our ohana lives on the island of Moloka'i. My husband, Mike Kahinu, is the 3rd generation of Kahinus living the Homestead life in Kalamaula. We owned & managed small businesses since 2002 and now have a culmination of services we offer to our local community.

We have 3 vending machines that feature our Na'ike Shoyu, our baked goods with locally sourced produce, crafts from Native Hawaiian artists, fundraiser snacks for keiki school trips, Pu'u Hoku Ranch dried apple bananas, Maebo won ton chips, Enjoy and Jade snack products in addition to drinks and other commercialized snacks.

Our baked goods line originally started as a fundraising effort for my son, Mykal to travel with his school and swim meets. I dubbed it Mykal's Munchies. It now has evolved into weekly bake sales featuring local produce, ranging from Purdy's Farm Macadamia Nuts, dragonfruit & bananas from all parts of the island, soursop from Mana'e, lilikoi from mana'e, chili peppers, lilikoi, mint & lime from our homestead, we have an eclectic mix of produce to create with! We are always looking for creative ideas to feature local produce in each of our Munchies line, we try to delight your taste buds. Our most popular item is our Coconut Macadamia Nut Chocolate Chip Cookies.....try to say that 3 times fast!

Years ago, I discovered an intolerance to MSG and started a journey on how make all my favorite foods which then turned into food sales, so now at our food Pop-Up events our goal is to feature MSG-free nom noms along with other limited dietary options. Always looking to source locally grown first and create savory dishes for all to enjoy!

And our final service is our chili pepper shoyu blend we have been making over 15 years ago. It was a blend that we liked to eat with oysters & opihi on the grill, then it went saimin, fried fish & on just about everything! In the earlier part of 2016, we were greatly encouraged by family and friends to have our sauce tested to see how it would fare out for retail. We were pleased with the results as our sauce needs no refrigeration upon bottling and after opening. This enticed us to add Na'ike Shoyu as another service to our Nai'ke LLC. business. To this day we still bottle and label our sauce by hand, we hope to introduce some machinery to become more efficient!

If your wondering how we got the name Na'ike? It is a blend of our names, Nani & Mike.

We truly appreciate & value all the support from our farmers and customers! Mahalo nui loa!