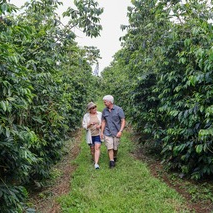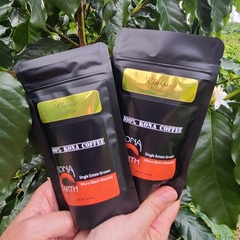 Kona Earth
City: Kona, HI,
Phone: 415-602-6259
About Us
Kona Earth is a family-owned coffee farm in the heart of Kona's coffee belt. They nurture their single-estate 100% Kona coffee from crop to cup, micro-batch roasting on site and then shipping farm-direct for supreme freshness. Husband and wife owner/operators Steve and Joanie Wynn take great care in producing their delicious Hawaiian specialty coffee and give back to local non-profits with their Care In Every Cup program. Learn more at: https://konaearth.com
Practices
Kona Earth's farm is located at approximately 2200 feet in elevation on the tropical slopes of the Hualalai volcano. At that altitude, we have cooler temperatures and more rain. Sunny mornings give way to cloudy afternoons with almost daily rain showers. This provides the perfect combination of sun and moisture for optimal tree growth. This micro-climate allows our trees to mature slowly, giving the fruit more time to develop and ripen. This translates to lush fruit, large beans, and robust flavor.

Another benefit to Kona Earth's farm is that we have a good amount of rich, volcanic soil. Many coffee farms are, quite literally, growing right out of rock.