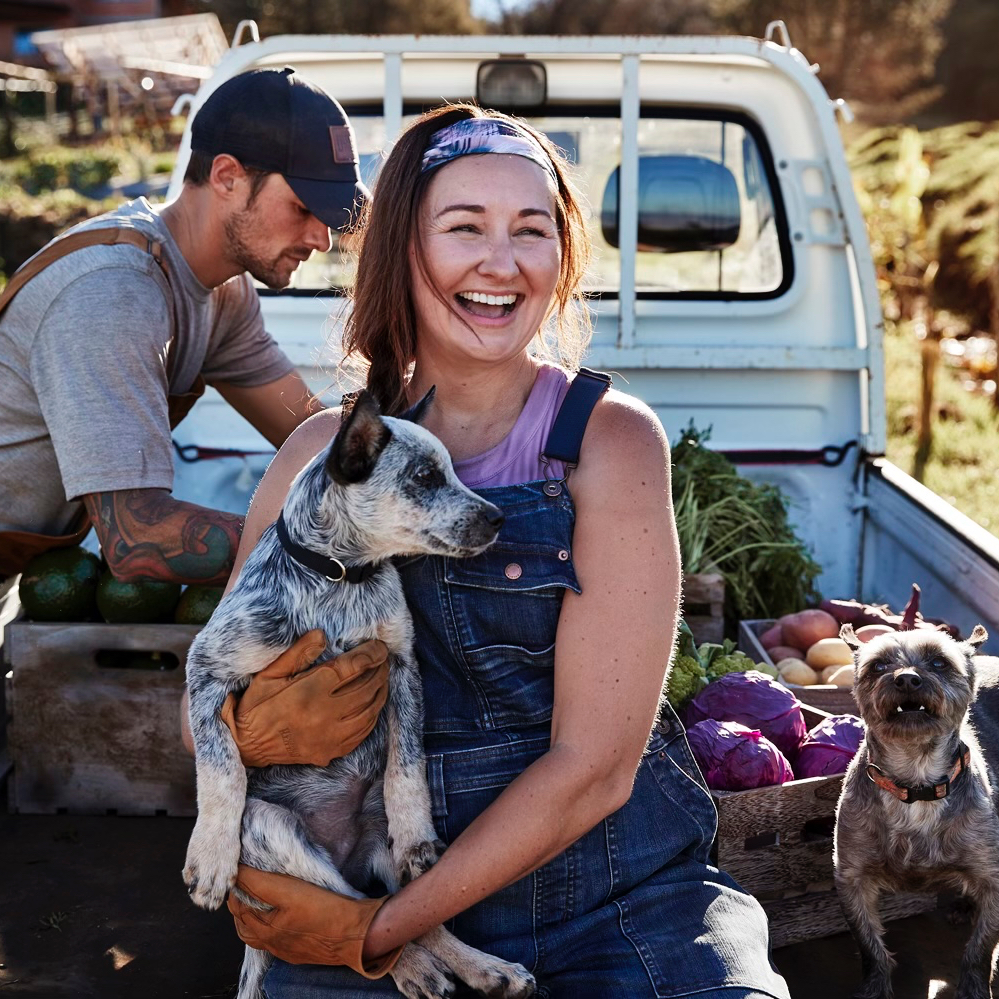 Ho'omakua Farm
Contact: Ashley Hogue + Niles James
Address: P o box 892 Kaunakakai, HI, 96748
Email Address: Hoomakuafarm@gmail.com
Phone: 808-292-5142
About Us
Ho'omakua Farm is comprised of Molokai resident regenerative farmers and recent graduates of the HFUU UH Maui (FAM) Farmer Apprentice Mentorship program; Niles James + Ashley Hogue.

KNOW YOUR FARMERS:
Niles James, a graduate of both JM Fortier's Market Gardener Masterclass and the Farmers Apprentice Mentorship Program at University of Hawaii Maui - is following his generational farming footsteps as the man who keeps us going with planting, harvest, compost, workshops, and farm tours if you'd ever like to say hi.

Ashley Hogue, a former FFA student and graduate of both HDOA's Produce Safety Program, the FAM Program at UH and a Bachelor of Arts degree in Communication Studies from California Polytechnic State University, is our gal behind the community scenes in the email confirming CSA inquiries and keeping you in the know with our behind the scenes media marketing as seeds pop live.

(ho'o-ma-ku'-a) v. — To grow into maturity, mature; to act the part of a parent; to foster, adopt, as a child; to call or treat as a parent; to address as parent, aunt, or uncle one related by affection rather than by blood or adoption; to become established or permanent.

With a thriving curbside compost service on Molokai and CSA style seedling membership running on Maui - Ho'omakua Farm remains passionate about growing local, organic produce for our community and about teaching others to do the same.
Practices
After working in hospitality for nearly two decades, Molokai based owner and operators of Ho'omakua Farm, Niles + Ash, ventured into regenerative organic natural farming with an enthusiastic goal towards increasing food security within the Hawaiian Islands. Educating and inspiring others to practice indigenous growing methods via small market-style growing plots is what we love to do at Ho'omakua Farm – teaching people how to grow non-gmo food and share with neighbors is our main goal. We believe food security starts within our own community and while we don't need everyone to be a farmer, everybody growing a little something is crucial.

* All Natural Farming
* IPM (Integrated Pest Management)
* Permaculture
* Non-GMO
* Indigenous (regenerative)

Farm/Business Website
https://hoomakuafarm.square.site/

Farm/Business Social Media Page Links
@hoomakuafarm on IG + FB + YOUTUBE